Our opening times are 8-15 am to 5 pm Monday to Friday and 8-15 am to 12-30 pm on Saturdays.
We welcome email enquiries but please understand that we cannot always respond quickly as we are "hands on" and might be busy in the workshop. So, if you would like a quick response it might be better to telephone instead. Also, to save time & ensure that we respond with the correct price, please make sure that you give us the exact details off the sidewall of your tyres as follows;
On the sidewall of your tyres you will see something similar to this ->
In this example we are looking at a 205/55R16 91W
This tells us the tyre size, load index and speed rating of your tyres.
205 = Section width of your tyre in millimetres (205mm)
55 = Aspect ratio of your tyre (the sidewall height as a % of the section width)
R = Radial
16 = Rim diameter in inches (16 inch)
91 = Load Index (load capacity i.e. maximum weight your tyre can carry)
W = Speed Rating
Finally Tyre Brand i.e. Are you looking for any specific tyre brand or a selection of what we have to offer?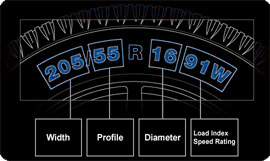 Call us on 01904 488 243

Email us on quoteme@yorktyresales.co.uk

Visit us where we work at:
3 Fryors Close,
Murton, York, YO19 5UY
Find York Tyre Sales