On the sidewall of your tyres you will see something similar to this;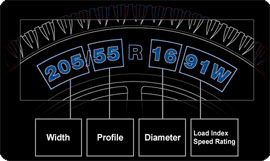 In this example we are looking at a 205/55R16 91W
This tells us the tyre size, load index and speed rating of your tyres.
205 = Section width of your tyre in millimetres (205mm)
55 = Aspect ratio of your tyre (the sidewall height as a % of the section width)
R = Radial
16 = Rim diameter in inches (16 inch)
91 = Load Index (load capacity i.e. maximum weight your tyre can carry)
W = Speed Rating
For further information on tyre speed and load ratings please see tables below.
---
Speed Index Table
---
| Index | km/h | mph | Index | km/h | mph |
| --- | --- | --- | --- | --- | --- |
| N | 140 | 87 | U | 200 | 124 |
| P | 150 | 94 | H | 210 | 130 |
| Q | 160 | 100 | V | 240 | 149 |
| R | 170 | 106 | ZR | Over 240 | Over 149 |
| S | 180 | 112 | W | 270 | 168 |
| T | 190 | 118 | Y | 300 | 186 |
---
Load index table
---
| Index | Capacity [kg] | Capacity [lbs] | Index | Capacity [kg] | Capacity [lbs] |
| --- | --- | --- | --- | --- | --- |
| 71 | 345 | 761 | 91 | 615 | 1356 |
| 72 | 355 | 783 | 92 | 630 | 1389 |
| 73 | 365 | 805 | 93 | 650 | 1433 |
| 74 | 375 | 827 | 94 | 670 | 1477 |
| 75 | 387 | 853 | 95 | 690 | 1521 |
| 76 | 400 | 882 | 96 | 710 | 1565 |
| 77 | 412 | 908 | 97 | 730 | 1609 |
| 78 | 425 | 937 | 98 | 750 | 1653 |
| 79 | 437 | 963 | 99 | 775 | 1709 |
| 80 | 450 | 992 | 100 | 800 | 1764 |
| 81 | 462 | 1019 | 101 | 825 | 1819 |
| 82 | 475 | 1047 | 102 | 850 | 1874 |
| 83 | 487 | 1074 | 103 | 875 | 1929 |
| 84 | 500 | 1102 | 104 | 900 | 1984 |
| 85 | 515 | 1132 | 105 | 925 | 2039 |
| 86 | 530 | 1168 | 106 | 950 | 2094 |
| 87 | 545 | 1205 | 107 | 975 | 2149 |
| 88 | 560 | 1231 | 108 | 1000 | 2205 |
| 89 | 580 | 1279 | 109 | 1030 | 2271 |
| 90 | 600 | 1323 | 110 | 1060 | 2337 |